Less than a week ago, I was scrolling through Instagram and had to look twice when I saw that Dua Lipa was hand in hand with Donatella Versace for the Versace Spring/Summer 2022 show. Of course I had to repost that because what is more iconic than that, and then I knew immediately that this was something everyone was going to be talking about. As New York Fashion Week has ended, the others are continuing and right now Milan Fashion Week has closed up as Paris begins.
Some shows which debuted included Fendi, Jil Sander, Maison Margiela, Prada, Moncler, Dolce & Gabbana and many more great designers having their brands showcased to be seen. If you'd like to be kept up to date with all the upcoming and past fashion weeks as well as Vogue Runway is the best for looking at everything up close and with detail, as well as you can download their app to see as soon as the show outfits go up! It was also rumored that Versace and Fendi were going to team up to do a collaboration which…ended up happening!
Disclaimer: All photos belong to other news sources and outlets, they are not property of Glamour and Guide and do not belong to us.
If you love any of these outfits and have gotten inspiration or want to try to recreate them, leaving a comment and let us know on our instagram @glamourandguide!
---
---
Versace SS22 Show Recap
---
Milan Fashion Week is always an exciting time to see what these luxury designers have up their sleeves for upcoming collections. Today we are covering the Versace SS22 show which was giving a lot of fun colorful moments, as well as more neutral outfits with colorful statement accessories. I've curated some looks below that were my personal favorite but you can visit Vogue's website and on their runway section you will find 65+ high definition photos from the show of every single look that was worn. You will also notice that there was a ton of pops of color from bright yellows, to green, pops of pink, and sky blue.
Patterns and prints were also extremely significant within this show. It opened up with some all black outfits, but then as it went on, you will see that much more colors were starting to show up and it was the perfect Spring/Summer collection.
---
---
---
---
Dua Lipa On The Runway
---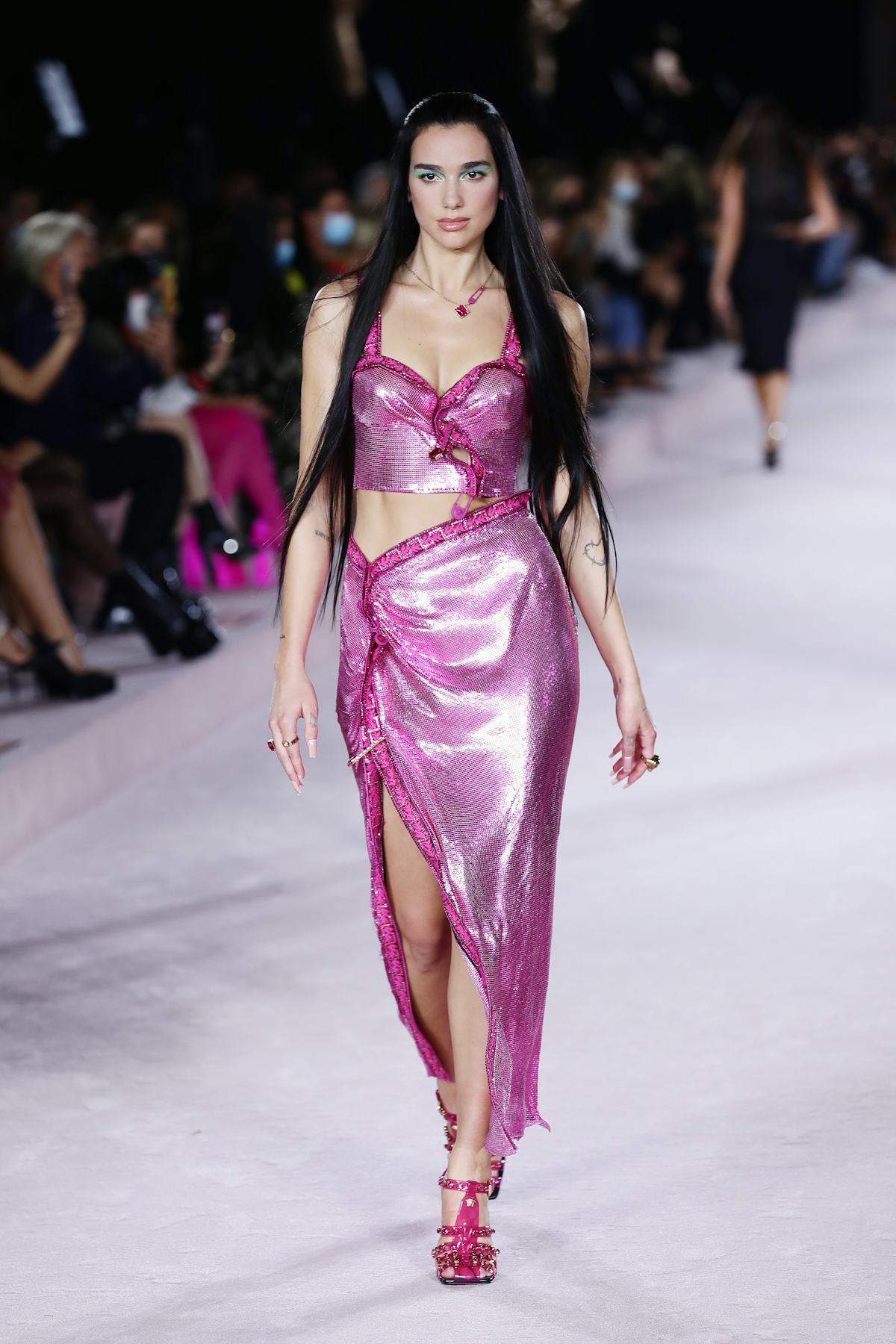 ---
There has to be nothing more iconic than seeing Dua Lipa in a safety pin, metallic pink split two piece set. From the hair, to the makeup, to the heels, she has seriously killed this look and she is a true Versace girl. This had everyone raving about the moment when she walked out with Donatella too because this duo is seriously everything. Dua also had a black outfit moment on the runway too which she was just as amazing as the pink.
A lot of people can definitely have their opinions on the fashion industry when it comes to public figures or celebrities walking these designer shows, but it truly goes get the audience going because the point of these is also for people to talk about it and bring publicity. If no one on the internet is talking about anything happening, then did it really happen?
---
---
'Fendace' Collaboration and Reveal
---
For the most exciting swap of these fashion houses, we see that Fendace — a Versace and Fendi switch in where Donatella created a pre-fall collection for Kim Jones at Fendi and Kim Jones created his own pre-collection for Donatella at Versace. Some feel as if this wasn't a good move on their end and can almost be something that isn't as original compared to if they did another kind of collaboration with a brand that wasn't designer. You can go to Instagram or Tiktok and find a lot of people with their own take on this swap and what they think.
I personally don't think it's too bad, yes it was super surprising as first and I was actually shocked to see this, but now I think it seems so fun and fashion is all about experimentation and trying something new. If everyone stuck to the same rules in the fashion industry, there would be nothing exciting or anything to get people talking. This definitely had people talking about we noticed some outfits within this show that had a lot of lighter colors such as pinks, golden yellow which is obviously for Versace, beige gowns, the iconic Versace print on some outfits, Fendi logo monogram on suits, and even Fendi monogram bags. These two collections are fun, colorful, and feature lots of monogram. What do you think of this designer swap?
---
---
Thank you so much for reading!
Feel free to leave to leave requests in the comments or on any of our social media. Use our #glamourandguide to tag us in your posts. New posts on our blog daily!
Disclaimer: All photos not mine are given credit to their owner/source. Photos which are mine will be included in a caption.
Join the official Glamour and Guide Facebook Group here for behind the scenes content, upcoming posts, meet other bloggers, and more!