Since quarantine had started several months ago and everyone was put into remote learning or working from home, I was able to pick up on some news things such as starting this blog, looking for remote internships and more. I was also in the waiting process for all my colleges to get back to me, especially my dream one which was The Fashion Institute of Technology and I was eventually accepted. While all of this was going on, I also realized I needed to fix up my resume and update it with some new things I had been doing. I even had some of my friends ask me to help them with theirs and it gave me the idea to create this blog post.
For those out there who want to get into the work field, simple fix up their resume or just want to create one and don't know where to begin, this post will definitely help you from the beginning to the end of the process. It is a lot easier than most people think and won't take up too much of your time. Knowing how to set one up or even what information to put on and how to format it is a skill you will need to know for as long as you would like to work or have an employer see.
If you already have your resume done and are interested in remote internships or finding one, check out my "How To Get an Internship in the Fashion Industry: Ultimate Guide" blog post right here!
First off, what is a resume?
A resume is a page or document where you showcase all of your previous work experience, education, give a summary about yourself, and information that an employer who is looking to hire would view and see if you qualify.
What is usually included in a resume?
Summary

In your summary, you will write about 2-3 sentences of the experience you have done, what you are looking to pursue in your future job if you are currently looking to find one, and your qualifications for the position you want.

Personal Information

Your name
Where you live (town and state)
Zip code
Phone number

Experience / Work History

This is the most important part of your resume it is what your resume basically is. On here you need to put any job, internship, or volunteer work you have done.
Whether you think your experience is relevant or not, any employer might be looking for someone with what you have done. The experience you are listing should also be relevant from within the last few years and not something you did maybe 5+ years ago and aren't as educated or know as much about it.

For example, if you used to tutor when you were in high school for a specific topic you knew a lot about but now haven't tutored in years and have forgotten a lot of that information, it is recommend that you don't put that.

You also need to be very honest in the work experience you are writing down. If you worked at a store or did an internship for a week before you quit, you should NOT write this in your resume because an employer would probably like someone more experienced. If they hire you and you are put in this position for the role but don't remember a thing, you definitely need to be honest.
Example: I am currently a fashion blogger for my website glamourandguide.com. This is something which is perfect and looks great on my resume because since I am going to be studying Fashion Business Management in college, this shows that I even use my personal time off of school to put effort into a blog which I take very seriously.

Education

The highest level of education you have completed must bee listed in here and your previous education as well. This is another extremely important part of your resume because when an employer is looking to hire someone in a specific education range, they need to know your highest level.

Example: I have written down that I recently graduated high school in June 2020 but I will be attending The Fashion Institute of Technology as a freshman in Fall 2020.

Major Accomplishments

If you have received any awards, honors, certificates, or a high achievement in anything, this is also important to write down. Not only do these put you at a higher advantage than other applicants if you're looking for a job, but it makes you seem a lot qualified and professional.

Skills

Any kind of skills you have which you learned, whether it is computer skills, organization, time management or more, writing these down will show exactly what kind of person you are and even help you land an interview a lot faster than other applicants.
If certain positions apply more towards you and an employer sees you have the skills for it based off your resume, it saves you a lot of time with them asking you questions for how you'd fit the role via an interview.
If you can speak more than one language as well, that is another key tip to put down. I speak English as well as fluent Spanish and sometimes employers write down in job listings that they are specifically looking for people who can speak Spanish or any other language.

References

Since you have job experiences and employment history that you have previously done or are doing currently, writing down references to your previous bosses is beneficial for your next employer to have access to.

It doesn't happen all the time, but sometimes future employers like to get in contact with your last boss just to ask questions about you before they move on to the hiring process.

You should always have at least one or two references to make it seem a bit more professional and that these people will say good but honest things about you so that your next hiring can happen.
Where Do You Even Start?
There are so many types of resumes you can use online. Examples include:

Google Docs: You can easily find a Resume Template for free, download it to your Google Drive and start putting into your information right away. Then, save it as a PDF and you're ready to go.
Pages Application: This is an app that is available on your Macbook and iPhone or iPad, as well. This is an Apple app therefore you are going to need an Apple product in order to use it but it is where I wrote my resume. Not only is it free as well, but I dragged it onto my desktop and save it as a file so I can easily use it when applying anywhere online.
Microsoft Word: Although I am not extremely proficient in Microsoft, I have used it a couple of times and it is not hard either. You can simply find a template and just put all your information in.
Indeed: If you are a beginner in making a resume, Indeed is a job listing site where you can apply for internships, real jobs, and even hire employers for your company.

When I first applying for internships and jobs, I put all my information into Indeed, and I was able to save the information I put in there into a template then download it into my computer. Since I had so much information on Indeed, it ended up being downloaded into 4 pages worth of experience which my first mistake. Therefore, I recommend using it only if you're a beginner and have less than 4 experiences.
Resume Tips
DO NOT put every single experience that you have ever done on your resume. Not only does this make it look a lot more cluttered, but you want your resume to be curated towards the specific job you're looking to get.

If you want to get into the fashion industry, you're obviously not going to put your babysitting experience from when you were a teenager on there.

DO write about 2-3 sentences for the experience you are putting down. Writing even 4-5 sentences is a little too much because you just want to summarize very briefly the work you have previously done.
DO NOT use I when you are writing down your experience. Not only does it seem less professional but the employer and person reading your resume already knows it's about you.

Example: "Have used Google Analytics and monitored trends with specific keywords." This is what I have written down for my SEO experience on my own resume. Not only does it not included "I" but, it gets to the point and sounds professional.

DO use one page for your resume. When I first made mine, not only was it 4 pages long but it had every single experience I had ever done… It was obviously a beginner resume because I had no idea they were only suppose to be one page but I had so much unnecessary information that no one needs to read.
DO incorporate your personality into your resume and use a nice layout if you're ready to take it to the next step.
Examples of Resumes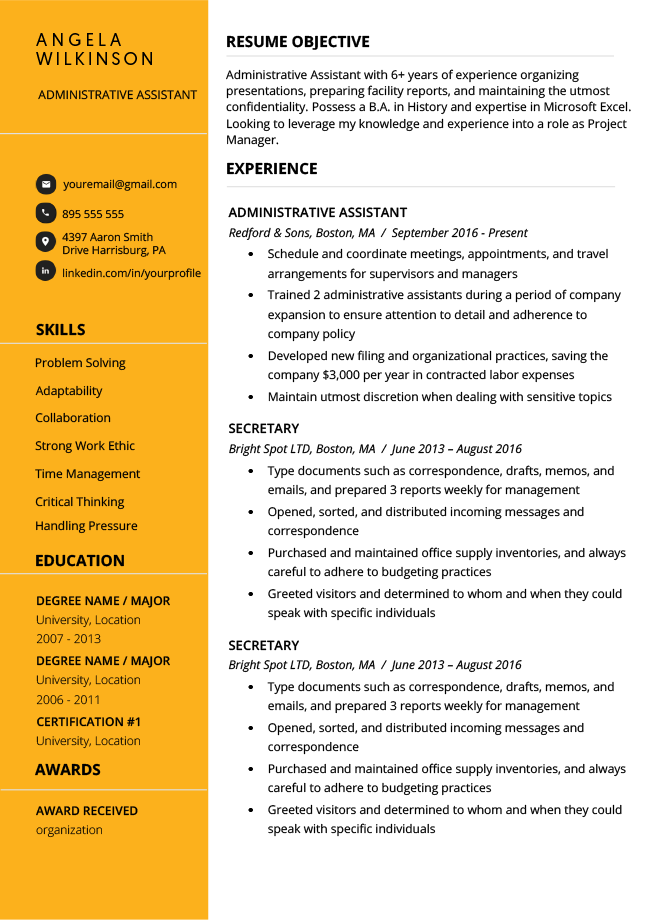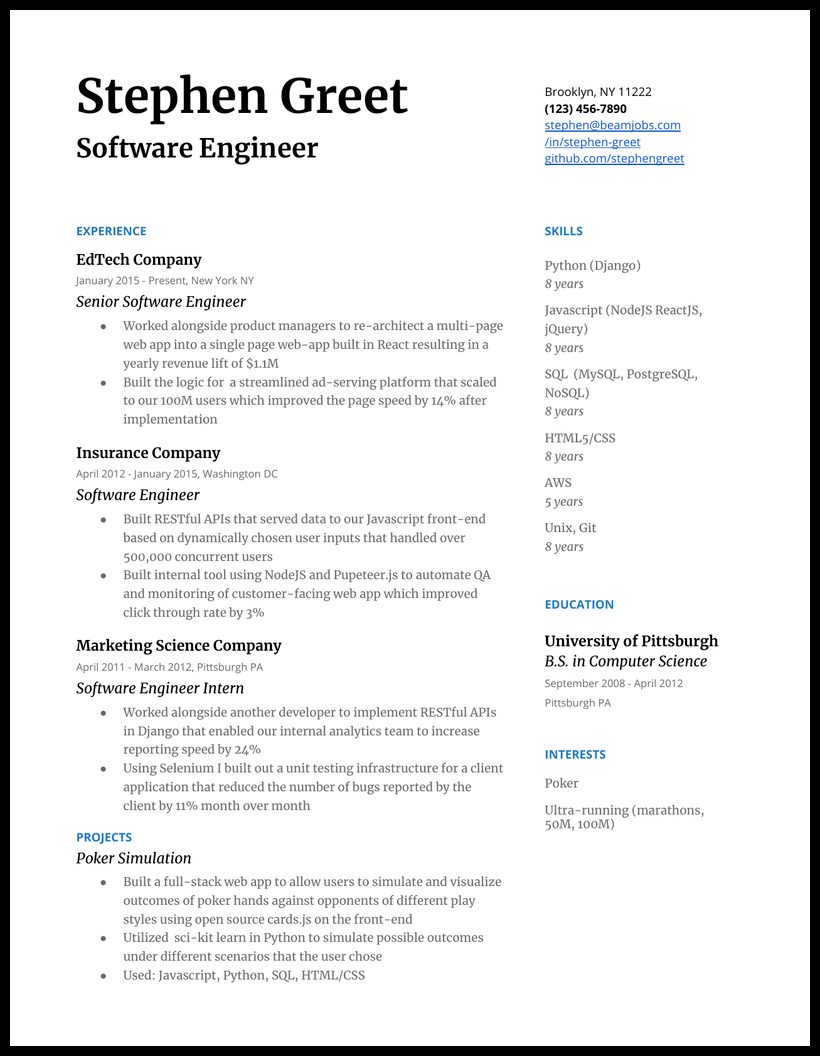 Examples of Actions Verbs/Words to Use
Thank you so much for reading!
Feel free to leave to leave requests in the comments or on any of our social media. Use our #glamourandguide to tag us in your posts. New posts on our blog daily!
Disclaimer: All photos not mine are given credit to their owner/source. Photos which are mine will be included in a caption.